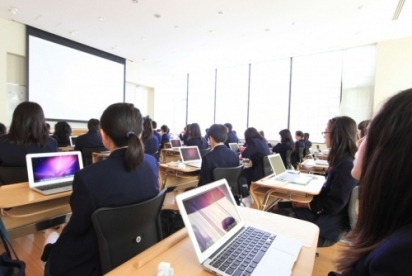 Crossing Borders
Gandhi once famously wrote: "I do not want my home to be walled in on sides and my windows to be stuffed. I want the culture of all lands to be blown about my house as freely as possible."

It is important for our young people to develop the art of dialogue with people from other cultures. We tell our students all of the time that in order to solve the intractable global problems that they will inherit, they must have meaningful conversations with people from all over the world. Most of our graduates tell us, after they have left our school, that the chances they have had to interact with their peers from around the world while at our school were the experiences that they most fondly remember and value. They understand all too well that no young person can afford to be an island.

Every year we host groups of students from our sister schools and from other schools with which we have not yet developed official ties. We have recently hosted students from schools in Australia, Indonesia, Singapore, Thailand, England, the United States, Korea, Taiwan, China and the Philippines. We are currently hosting five long-term exchange students from Belgium, Germany, New Zealand and the United States. Our students have in the past few years spent time abroad at sister schools in England, Singapore, the United States, Canada and the Philippines. Every year, the number of students from our school who study abroad for two months to a year has increased. It is clear to us that our students and our parents feel that travel abroad should be one pillar of our unique school's curriculum.

We conduct an annual and comprehensive survey of all parents, students and staff as part of our State of the School exercises. We ask them to respond to one hundred questions. This past year, when we received the results and analyzed the data, we discovered that one of the facets of life at our school that almost all of our students, parents and teachers (well over 80%) value most is the opportunity our school gives our students to interact regularly with people from other cultures. This, they tell us, is what is truly unique about our school. Other schools are simply out of our league in this important respect.

Crossing borders is imperative. It is how our students learn to respect differences and to allow the culture of all lands into their hearts and minds.

---
---