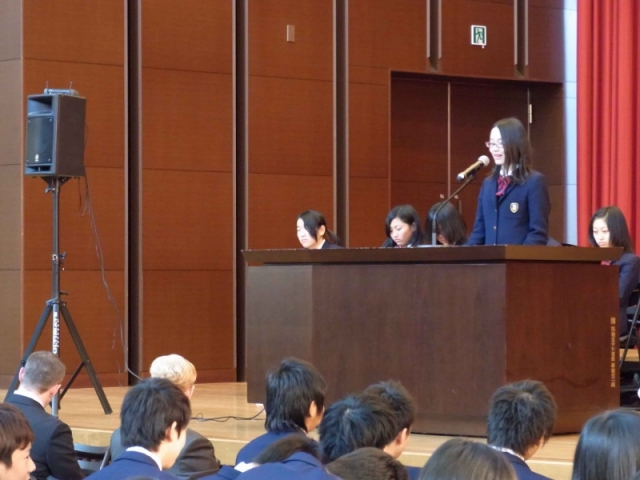 What is the International Understanding Education program?
This school aims to educate young men and women to become leaders of their generation, persons who have a rich understanding of other cultures and can speak in common languages of the world. We do not only educate our students to be aware of different cultures, but also to have the confidence and skill to have genuine dialogue with people from around the world about real-world challenges. We endeavor to provide our students with the skills and the dispositions that they need to thrive on the international stage in the twenty-first century.
International Understanding Education Programme
English Camps
1st year,2nd year
Trip to London and Paris
3rd year
International Understanding Lecture
Annually
Canada International Understanding Trip
5th year
Service Trip to Manila
5th year
Exchange Trips with our sister schools abroad
4th, 5th and 6th years
Leadership/US History Trip to Harvard University
5th year
Lecture on International Understanding
By allowing students the chance to hear a speech from an individual operating on the front line of international society, a place is created where differences in customs and culture between Japan and the world can be better understood.
The Lecture for International UnderstandingGuest Speakers at the Opening Ceremony for New Students
Academic year
Guest
Title
2015-2016
Mieko Ikegame
Special Advisor, African Union-New Partnership for African Development
2014-2015
Adam Beiji
Head of Press, information and Cultural Affairs, Embassy of Sweden (Japan)
2013-2014
Matt Fraser
Consul and Senior Trade Commissioner Consulate of Canada in Nagoya
2012-2013
Rieko Suzuki
PresidentMillennium Promise Japan
2011-2012
Allan Edwards
Consul and Senior Trade RepresentativeConsulate of Canada in Nagoya
Rieko Suzuki
PresidentMillennium Promise Japan
2010-2011
Shigeyuki Kamino
President Meitetsu Department Store
2009-2010
Allan Edwards
Consul and Senior Trade RepresentativeConsulate of Canada in Nagoya
Joichi Igawa
Representative of NPO Asia-Japan Mutual Understanding Centre (ICAN)
2008-2009
Mr. Lowell Shepard
Asia Pacific Director Hope International Development Agency
Eikoh Harada
Chairman, President and CEO McDonald's Company (Japan)
2007-2008
Louis Pierre Emond
Consul and Senior Trade Representative Consulate of Canada in Nagoya
Akihiro Morimoto
Executive Director
GPI Ltd,Canada
2006-2007
Yuuto Kitamura
Nagoya University Graduate School for International Development Research – Visiting Professor
2005-2006
Jim F. Goater
Editorial DirectorUN Regional Development Office
2004-2005
Jeffrey Kuharski
Consul and Senior Trade RepresentativeConsulate of Canada in Nagoya
Norman Moyer
Commissioner General for Canada atthe 2005 World Exhibition, Aichi, Japan
2003-2004
Gregory Clark
President Tama University
Charles Gardner
Commercial Representative for the Canadian Chamber of Commerce and Industry in Nagoya
---
---