The IBDP
On December 8, 2014, the International Baccalaureate Organization (IBO) officially recognized Nagoya International Junior and Senior High School (NIHS) as an IB World School and gave NIHS permission to implement the IB Diploma Programme (IBDP) on April 1, 2015.

The IB course of study comprises the whole 3-years of high school. In the 1st year, students primarily study MEXT (Monbukagakusho) required subjects, some of which are taught in English. The English-taught subjects serve as preparatory courses for the IBDP. Literature, social studies, math, and the sciences are all taught in English during the first year of High School.
During the 2nd and 3rd years, students are enrolled in the IBDP where they can choose from a variety of subjects within the 6 groups of study. Depending on their academic orientation and post-secondary college choices, students can opt for a humanities-oriented curriculum or a sciences-oriented curriculum. Students enrolled in the IB must opt for three Higher Level courses (HL) and three Standard Level courses (SL), though under special circunstances 4 HL courses may be taken. All courses at NIHS are offered at both HL and SL, unless indicated otherwise.
SIX GROUP SUBJECTS
Group 1: English A: Language and Literature, Japanese A: Language and Literature
Group 2: English B, Japanese B, another G1 subject
Group 3: Economics, History (SL)
Group 4: Biology, Chemistry, Physics (SL)
Group 5: Mathematics
Group 6: Music (SL), Theater (SL), another G3/G4 subject
IB CORE
Aside from the six subjects that IB students are required to take, the IB Core is an essential component of the curriculum. The IB Core consists in TOK, CAS, and the Extended Essay (EE).

TOK: Theory of Knowledge is a 2-unit credit course that students take in the two years of the IBDP where epistemological questions are discussed and probed. Students are evaluated on their TOK presentation and their TOK Essay (1,600-word essay).

CAS: Throughout the two years of the program, students must be engaged in activities that fulfill the learning outcomes of CAS (Creativity, Activity, and Service).

EE: Students must spend at least 40 hours investigating a topic of their own interest, culminating in a 4,000-word Extended Essay which is due on the first term of the DP2 year.
---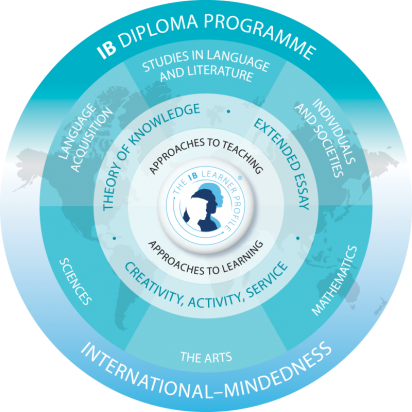 ---
Admission Process
The IB admission process is very competitive since the IB Program itself is rigorous and demanding. Currently we hold entrance exams for both the 3-year course, and for those who will be transfering directly into the IBDP (in the second year of High School).

The admission process consists of:
1. English Essay Exam
2. Math Exam
3. Interview
4. Review of Academic Records (i.e. transcripts, letters of recommendation)
5. English Proficiency Exam Results (TOEIC 605, TOEFL IBT 65, IELTS 5.5, CEFR B2)


Feel free to contact the IB Coordinator, Mr. Jonatas Cavani, if you have further inquiries (jonatas@nihs.ed.jp)
Additional information about the admission process can be found in the attached IB Entrance Examination Guidelines.
---
---