[A]Social & Cultural Aspects
GENSAI Project Begins
---
The GENSAI Project refers to "Multiculturalism and Disaster Mitigation", one of our school's current and ongoing social action themes. Our goal is to encourage student leaders to develop good ideas for mitigating the effects of natural disasters by developing ideas in cooperation with representatives of local communities, universities, businesses and NPOs.
[Main Activities]
○Acquiring Basic Disaster Mitigation Awareness and Skills
○Disaster Mitigation Planning and Public Activities
○Contributing to and Interacting with the Local Community・Linking and Cooperating with
Universities, Businesses and NPOs

---
1st Year Student's Summer Project, July 24th, 2017
---
- 1st year high school students conducted an extracurricular activity involving Mt. Fuji and Lake Kawaguchi. The themes were "Knowing Japan" and "Disaster". Caves formed by Mt Fuji's eruptions were surveyed, and the topography of the area was studied. Students were awed by the beautiful ecosystem of the nearby Aokigahara Forest.
---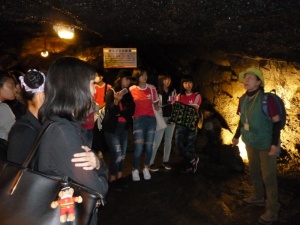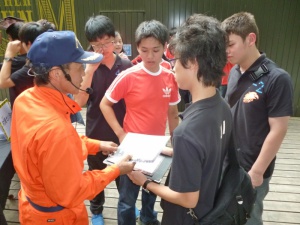 【Report ⑪】
Nagoya University Disaster Mitigation Research Center DMRC Building Visit 2015.12.18
NIHS students, engaging the Social Action! "Multicultural Living and Disaster Mitigation" theme, are designing an original emergency toilet kit. Recently, they have examined portable toilet products and are trying to come up with a good design for use when disaster strikes. In order to facilitate this creative process, the students decided to pay a visit to the Nagoya University Disaster Mitigation Research Center Building. They had a look at the various exhibitions and displays in the DMRC Building and got a first-hand look at relevant disaster prevention equipment. They also participated in the Gallery Talk held there every day and learned how different architectural designs respond differently to earthquakes, how certain measures can help to prevent toppling and so forth. The students were very interested in these topics and enthusiastically asked questions.
【Report ⑩】
Presentation, International Conference, "Industrial Technology Education for a Sustainable Society" 2015.11.7
---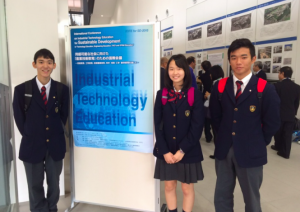 Three student representatives from NIHS participated in a recent international conference entitled "Industrial Technology Education for a Sustainable Society", held at Chubu University. They made a presentation focused on ESD activities recently implemented at our school. They discussed in detail the three social action themes that our school has embraced—"Multicultural Living and Disaster Mitigation", "Economic Activities and Poverty" and "Circles of Sustainability". In particular, they introduced a number of recent student initiatives, including the development of our fair trade product "Kokusai Friend Coffee" and an original portable Emergency Toilet Kit for disaster preparedness. They also described a variety of "carbon-offset" activities involving NIHS students. Since some of those attending the conference came from overseas, our students made their presentation in both Japanese and English. The students were able to explain our initiatives in depth and had the privilege of interacting with people from all over the world who gathered to discuss ESD issues.
【Report ⑨】
Extra-Mural Fieldwork: Making Neighborhood Disaster Mitigation Maps 2016.7.25-2015.8.20
---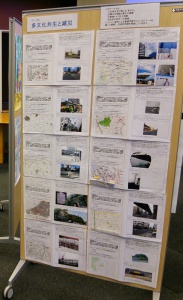 During the summer vacation, students investigated the evacuation areas and emergency water supplies in their neighborhoods and produced maps to indicate these. They also anticipated possible dangers along the evacuation route and undertook to predict what might happen in the event of an actual natural disaster. In taking on this task, students gave serious thought to where they should go and what they should do if disaster strikes when they are either at school or at home.
【Report ⑧】
Shake Out Drill at Nagoya International Junior and Senior High School & "AICHI SHAKE OUT 2015 " 2015.9.1 (All Students)
---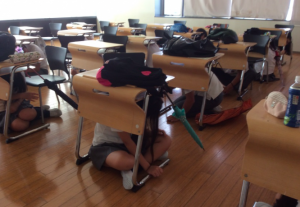 The Aichi Shake Out Drill took place on September 1, 2015. This is a drill recently developed and implemented by Aichi Prefecture. At the stroke of noon, for one minute, cooperating schools, businesses and public facilities in Aichi practiced the three-steps recommended for keeping safe when a powerful earthquake strikes—drop, cover and hold on. NIHS students have helped to updated emergency evacuation route maps to include the three steps in Japanese and English along with easy-to-understand graphics. Our students now aim to expand this important initiative to the larger community beyond the school.
---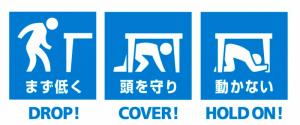 ---
【Report ⑦】
(Open Classrooms) Disaster Mitigation Information for Members of the Community and Local Elementary and Junior High School Students 2015.8.27
---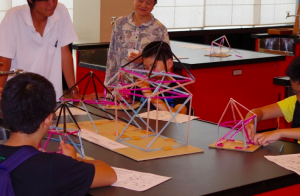 Current students taught elementary and junior high school students visiting our school for an Open Campus event recently how to picture what happens during an earthquake by using models made of straws and inviting them to draw useful lessons for mitigating the worst effects should a powerful earthquake occur in the near future.
【Report ⑥】
Emergency CPR Training at Showa Fire Station 2015.8.01, 2015.8.07
---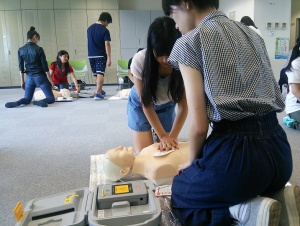 Students interested in disaster mitigation and students involved in NIHS sports clubs participated recently in an emergency lifesaving course at the Showa Ward fire station. They learned basic CPR and use of the AED machines available on campus and all over Japan. This knowledge is vital, of course. At our school, we are ensuring that our students acquire the English vocabulary and skills that will allow them to give lifesaving aid to victims of natural disasters who may not understand Japanese. An increasing number of persons with limited Japanese ability reside in Nagoya.
【Report ⑤】
AXA UNESCO Disaster Risk Reduction Designated School Event 2015.7.6
"DRR awareness saves lives." This is the clear message from disaster areas. To address this message, AXA Life and UNESCO Association Japan teamed up recently to provide DRR training to a limited number of teachers nationwide. This year, this team recognized the NIHS Disaster Mitigation Plan and associated activities and invited teachers from our school to receive special training in Sendai. Teachers were able to do research at ground zero of the Great East Japan earthquake and to learn more about disaster prevention and mitigation. The team strongly encouraged teachers to share the fruits of their research and discussions with their students and others, not only in the classroom, but also by introducing drills and other activities both at school and in the local community. 21 schools from Hokkaido to Okinawa were selected for this program. NIHS shared its vision for "Disaster Mitigation in a Multicultural Society" and "Extending Disaster Awareness to Resident Foreigners", part of its current three-part social action project. NIHS was the only school from Aichi Prefecture selected to participate in this program. NIHS is taking up the Aichi Prefecture DRR challenge and focusing on both its local and global implications. See the official UNESCO Association Japan website (http://www.unesco.or.jp/en/) for details about this program.
【Report ④】
Original Design Emergency Toilet Kit (Mylet, Inc.) 2015.7.1
---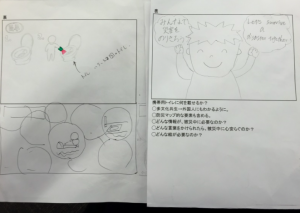 After a serious natural disaster, once the immediate danger has passed, lack of access to proper toilet facilities is an immediate concern. For this reason, NIHS students have decided to take the challenge of designing an original portable Emergency Toilet Kit that anyone can use in such circumstances. The students made their initial designs while keeping in mind that foreign residents must also understand immediately how to use these kits. This concern is consonant with the two-part nature of our social action theme: "Multicultural Living and Disaster Mitigation".
(1) Original Design Proposal
(2) Linking with Local Businesses and Universities to Develop the Design
(3) Sharing the Design with the Community
【Report ③】
General Studies Time: "Multicultural Living and Disaster Mitgation" Activities 2015.6.8 (All Students)
---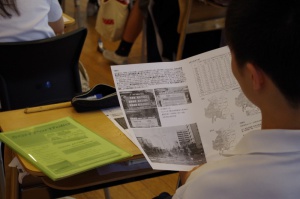 All students at NIHS must attend "General Studies" classes every week. We recently used this class time to encourage students to become familiar with the challenges described below. Each teacher has discretion to teach these classes in the manner that he or she deems appropriate, but as a general principle the focus is on student-initiated discussions.
[Activity 1] Suppose that, on the way home from school on afternoon, you drop into a convenience store near the subway station and are inside when the long-predicted Nankai Megaquake strikes. What will you do?
[Activity 2] In general, what can you and members of the local community do to prepare for such an event?
【Report ②】
Disaster Mitigation Education and Fundraising, Nepal Earthquake, Nagoya NGO Center 2015.4.30-2015.5.9
---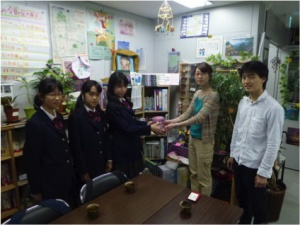 On April 4, 2015 a powerful and destructive earthquake struck Nepal. In response, NIHS endeavored to raise awareness of disaster mitigation among our junior high school students. For one week, teachers conducted focused discussions in classes on this topic, asking students to think about what they could do to mitigate the effects of a powerful earthquake that will likely occur in Aichi Prefecture in the near future. Some current students at NIHS have relatives in Nepal. NIHS linked with the Nagoya NGO Center to raise money for victims of the Nepal disaster. This effort complements other ongoing social action projects at NIHS. The fundraising was designed not only to raise money for the victims but also to share information and heighten awareness for the benefit of members of the community of which our school is a part. Raising disaster mitigation awareness in the entire school is an explicit goal and welcome byproduct of this social action project.
【Report ①】
Understanding Foreign Cultures Fieldwork: Asking Foreigners for their Opinions 2015.4.1-2016.3
---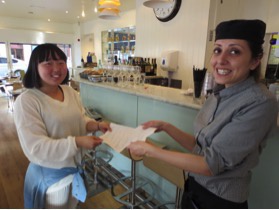 NIHS has implemented fieldwork for students designed to improve understanding of foreign cultures. Both in Japan and during trips overseas, students have conducted face-to-face opinion surveys of persons from foreign countries. Students choose subjects from all walks of life and of all ages. The survey includes seven questions designed to elicit opinions about disaster preparedness. For example, one question asks: "Have you ever participated in a disaster drill before? If yes, what kind of drill was it?" Students find that their subjects often ask them challenging questions in return, requiring them to use the English communication skills they have learned at our school. Students will collate results from surveys conducted both in Japan and in various countries around the world and present an analysis of the results at the end of the school year.
○ London Survey: May 8 through May 14, 2015

---