Activity Results Report
Nagoya International Junior and Senior High School was designated by the Ministry of Education and Science (MEXT) a Super Global High School (SGH) Associate in 2015. We have organized and participated in activities centered on the goal of fostering in our students a commitment to a sustainable world through our Social Action! Project. In order to reflect on the various SGH Associate activities that have engaged us during this past year, we announce the following Activity Reports Meeting.
International Education Project Joint Session (February 10th, 2018)
A joint report meeting was held in 2017 on the following theme was promulgated as a school project: "Learning Diversity –Independent Minded Individuals."
 1. Date and Time: Feb 10th, 2018 at 1pm-4pm
 2. Place: NIHS
 3. Participants: Alliance partners, parents and incoming freshmen.
 4. Program:
  a. Sustainable School Learning
  b. SGH-related activities

1. Sustainable School Learning
1st Junior High School Student Sustainable Presentation Contest – Sus-Con I - Excellent Case Poster Session

A Poster Contest tournament was held in the entire school. Participants and students actively exchanged opinions and had a productive discussion time.
---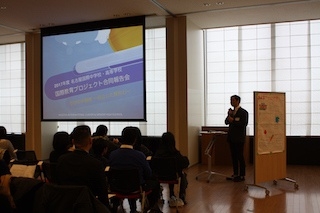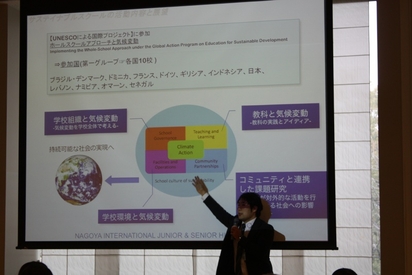 ---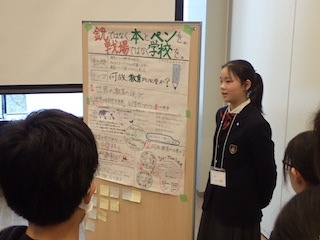 ---
2. SGH-related Activities
 Part 1 – Kokusai Friend Coffee Workshop
 Part 2 – SIA Special Presentation Outline – Demo Lesson


The learning system of NIHS was introduced through the Kokusai Friend Coffee workshop, hosted by students, and a demo SIA lesson on the topic of Sustainability in Action was delivered by the SIA teachers. The Kokusai Friend Coffee workshop introduced fair trade concepts while the demo lesson highlighted the active learning aspect of the school's international education department.
---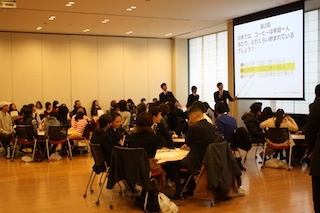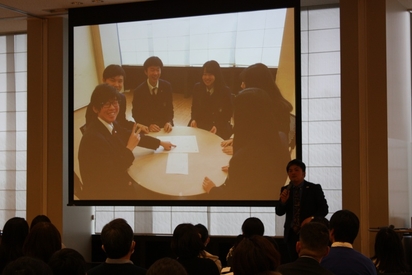 ---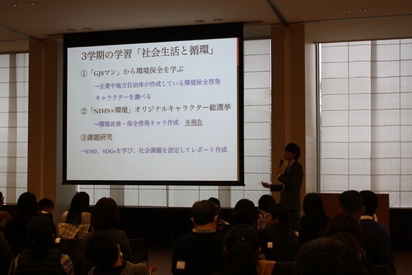 ---
Summary of Activities (as of March 15, 2017)
---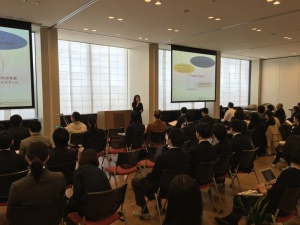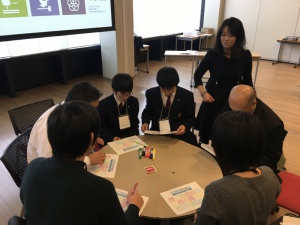 ---
Integration of NIHS' Three Global Programs:
a) International Baccalaureate Diploma Programme (IBDP)
b) Super Global High School Associate (SGH)
c) Education for Sustainable Development School (ESD)

Date and time: March 15, 2017 (1-4pm)
Venue: Nagoya International Junior and Senior High School
Participants: Education officials from inside and outside the prefecture, as well as representatives from NUCB

Contents:

1 A guest presenter from MEXT in charge of promoting UNESCO gave students a lecture about ESD and International Education.

2 Workshops
IBDP Open Classes
After a brief introduction to the school's IB Program, there were demo classes of Japanese A, English A, and Business Management.

ESD Introductory Lecture
A poster session was exhibited displaying multiple examples of ESD activities performed by NIHS students.

SIA Advanced Program Demo Class
After a brief explanation of SGH associate activities, a demo class of SIA (Sustainability in Action) was conducted.

3 Information Exchange Meeting & Review
---
Activities Reporting Event(English PDF)
---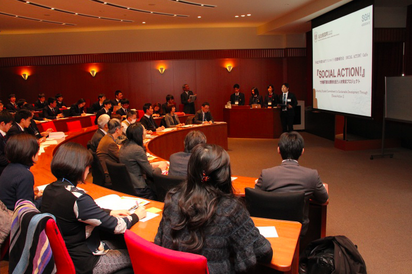 ---
2016年2月12日SGH Associate Activity Reports Meetings

2015 Social Action! Activities Presentation
-KOKUSAI FRIEND COFFEE Production -
"Solving Social Problems through Virtual Ventures"
- NIHS Alumnus Presentation -
Poster Sessions (Activity Reports Based on our Three SGH Associate Themes)
-"Multicultural Living and Disaster Mitigation", "Economic Activities and Poverty", "Circles of Sustainability" -
DIVERSITY TALK
- Active Learning Discussions Involving Students and Representatives from our SGH Associate Partners and Cooperating Institutions -
Professor Yuto KITAMURA's Reflections
---