[B]Economic Aspects
【Report ⑥】
World Collaboration Festival Presentation 2015.10.24.
---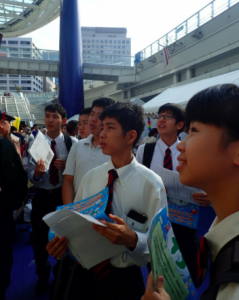 NIHS students spent a Saturday at Oasis 21 in Sakae participating in the World Collaboration Festival 2015. At this event, NGOs from the Chubu region of Japan dedicated to sustainable development and international cooperation gathered and shared details about the many projects in which they are involved. NIHS students were given worksheets and asked to visit each booth set up at the festival to talk with NGO representatives about their projects. Later, at school, students and teachers discussed and reflected on what they had observed and learned at the festival and generated various ideas about steps they and the school can take in the near future to make a meaningful contribution to sustainable development throughout the world.
---
【Report ⑤】
"Share the Happiness", Global Festival Japan 2015.10.03.-2015.10.04.
---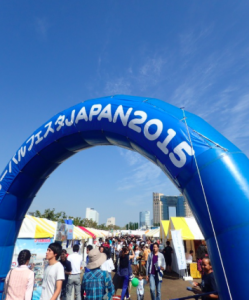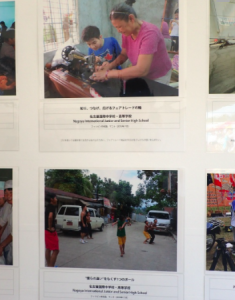 ---
On these two days, Global Festa Japan 2015—"one of the largest events in Japan promoting international cooperation"—was held in Tokyo. In one area in the event space, there was an exhibition of twenty photographs selected from among a large number of submissions from schools and organizations around the country. Two of those selected and exhibited were NIHS photos documenting service activities by some of our students during the school-sponsored summer trip to Manila, part of our fifth-year "Research for International Understanding" curriculum that takes our students to destinations in three countries during the summer vacation of their second year in senior high school.
---
---
---
【KFC Activities】
Kokusai Friend Coffee Production, Aoyagi Coffee Factory, ICAN 2015.4.1 (Ongoing)
---
【KFC Report⑤】
Selling Coffee, Sharing Information at the NIHS Culture Festival 2015.09.19.-20.
---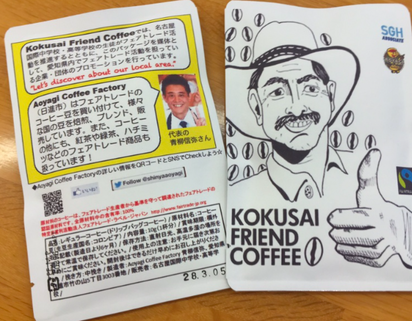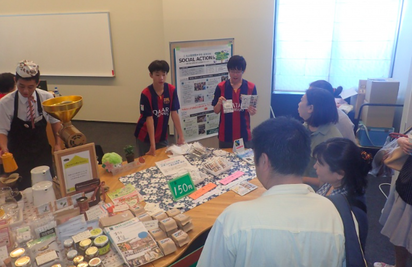 ---
At the school's annual Culture Festival, our students sold two types of drip-coffee packs that they had produced in conjunction with a fair trade research and social action project. Students produced printed materials to distribute to guests at the festival. These materials explained the reasons for producing the Kokusai Friend Coffee products. NIHS students have produced these coffee products in cooperation with Aoyagi Coffee Factory, representatives of which attended the festival on the second day and helped to explain the Fairtrade policy and our student's social action project to visitors to the event. The students have to sell the two types of coffee for slightly different prices because the coffee for the products comes from different sources. Also, the designs of the packages involve slightly different costs. Students will reflect on these factors as they go forward.
---
【KFC Report ④】
Inquiry Efforts, Implementation Details, Poster Session at Kyoto University 2015.8.1
---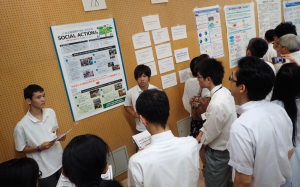 At a recent poster exhibition held at Kyoto University, NIHS students shared details about their efforts to produce a fair trade coffee product as part of an ongoing social action project. The exhibition brought together students from Super Global High Schools and Super Science High Schools from all over Japan in order to participate in a vigorous exchange of opinions and information. Dr. Masao Kitano, trustee and Vice-President of Kyoto University, shared his impressions at the event, emphasizing the need to acquire both a local and global perspective and to advance hypotheses based on abundant data analysis. Students want to take this advice to heart as they develop and market their fair trade coffee product in the days to come.
---
【KFC Report ③】
Visit to ICAN Headquarters 2015.7.30
---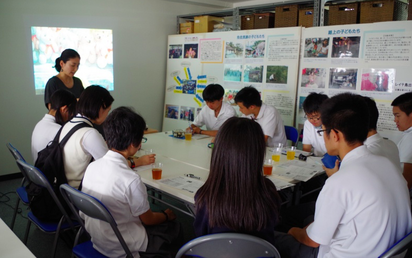 One goal of the Kokusai Friend Coffee project is to promote the activities of enterprises and organizations in Aichi Prefecture that have committed themselves to social action. The NPO International Children's Action Network (ICAN) focuses its attention on ameliorating dangerous conditions experienced by people living in the Philippines. Our students recently visited their headquarters and were taught an interesting lesson by staff member Ms. Aya Yoshida. Students participated in a question and answer session. "In what way do you feel a sense of achievement in your role as an aid worker?" "Do you not sometimes feel that in trying to help you are overstepping bounds and intruding?" These and many other interesting questions emerged during this session.
---
【KFC Report ②】
Fair Trade Activities, Tsukiichi Marche 2015.7.30
---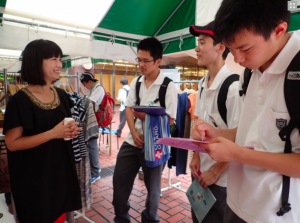 NIHS students made a trip to visit the monthly Fairtrade Tsukiichi Marche event, held beneath the Nagoya City television tower. Nagoya is seeking recognition as a "fair trade town". Students spoke with Ms. Satomi Harada, representative of Fair Trade Nagoya Network (FTNN), outlined this organization's current efforts in the Nagoya area and interviewed persons who set up booths at the event. Fair trade activities are not for NIHS only, but must and do extend to the larger community.

Note: Nagoya subsequently received recognition as a "fair trade town" on September 19, 2015 during Environment Day Nagoya proceedings. Nagoya is the second fair trade town recognized in Japan, meeting all six qualifying conditions, one of which specifies the presence of at least one fair trade shop for every 10,000 residents. Nagoya's population is currently estimated at 2.3 million.
---
【KFC Report ①】
Aoyagi Coffee Factory: A Lesson from Shinya AOYAGI 2015.6.23
---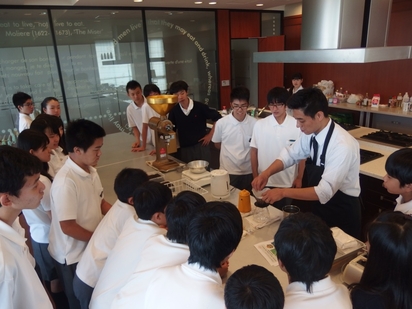 By means of the Kokusai Friend Coffee initiative—designing and selling original drip coffee packages—NIHS students are learning about fair trade practices. They are giving serious thought to the message they wish to convey in offering this product and how best to do so. They intend to launch the product at the school's Culture Festival in September. The students have received valuable guidance from sustainable coffee roaster Shinya AOYAGI from Aoyagi Coffee Factory in Nisshin City. On this day, Mr. Aoyagi visited NIHS to teach students both about the Fairtrade mission and the finer points of drip coffee production.
---
---
---
【Report ④】
Intercultural Fieldwork: Talking with Overseas Peers about Global Concerns 2015.7.15-2015.7.19
---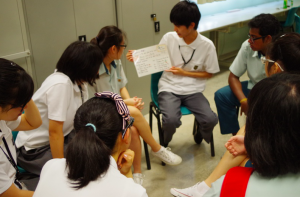 NIHS students visited Yio Chu Kang, our sister school in Singapore, and had a sustained conversation with the students there about poverty issues currently of concern to young people in both of our countries. Both Japan and Singapore are highly developed Asian economies. However, poverty is an ongoing concern for both countries. Students discussed these concerns and strategies for addressing them. NIHS students visited the homes of some of the Yio Chu Kang students and asked these students' parents to fill out surveys related to the same topic.
【Report ③】
General Studies Time: "Economic Activities and Poverty" Activity 2015.5.25 (All Students)
---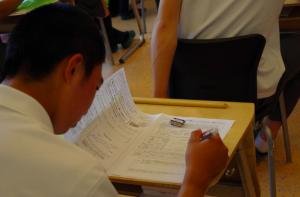 During the General Studies period required each week for all students, students were recently asked to think about the difference between "relative" and "absolute" poverty and the difference between the lifestyle that they lead and a poverty lifestyle. Students in all classes participated in open discussions based on these two themes.
[Activity 1] Do you think that the current world poverty standard—earnings of $1.25 for a day of work—is right?
[Activity 2] Let's think critically about the cost of our lifestyle.
【Report ②】
The World's Biggest Lesson 2015: Japan NGO Network for Education 2015.5.13
---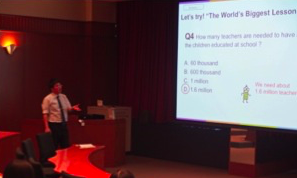 NIHS has become an official participant in the World's Biggest Lesson 2015 campaign sponsored by Japan NGO Network for Education. Teacher prepared worksheets for students and conducted discussions about the world literacy rate and the children's access to education around the world. This learning activity was student-centered. Students did not listen to a lecture. They had to participate robustly and construct their own knowledge in an active learning setting. The activity was conducted in both Japanese and English and required broad student input.

Note: "The World's Biggest Lesson" refers to the fact that in 2008 this annual "Education for All" campaign involved 8.85 million persons worldwide and was registered in the Guinness Book of World Records.
【Report ①】
Intercultural Understanding Fieldwork, Asking Foreigners for their Opinions 2015.4.1-2016.3
---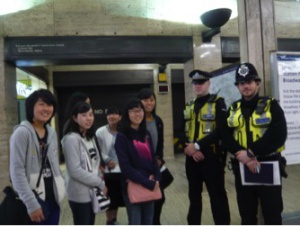 NIHS has implemented fieldwork for students designed to improve understanding of foreign cultures. Both in Japan and during trips overseas, students have conducted face-to-face opinion surveys of persons from foreign countries. Students choose subjects from all walks of life and of all ages. The survey includes seven questions designed to elicit opinions economic activities and poverty. For example, one question asks: "What is the amount of monthly earnings that you would describe as poverty wages?" Students find that their subjects often ask them challenging questions in return, requiring them to use the English communication skills they have learned at our school. Students will collate results from surveys conducted both in Japan and in various countries around the world and present an analysis of the results at the end of the school year.
○ London Survey: May 8 through May 14, 2015
---